Summer activities are a carefree way for our AAUW branch members to get together informally during July and August. This year, three branch members volunteered to lead a variety of events.
Cynthia Plater arranged for a July 11 trip to Eleanor Roosevelt's home, Val Kill, up in Hyde Park, to be followed by lunch at the American Bounty Restaurant at the Culinary Institute of America. Unfortunately, as the date neared, our numbers dwindled and the trip was ultimately cancelled. Thanks for working out the trip details, Cynthia.
On Wedn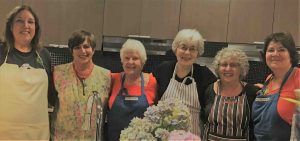 esday, July 18, Selena Barron organized a lunch at X2O Restaurant in Yonkers. As always, there was a lovely view of the river and a delicious prix fixe meal. Thanks, Selena!
July 25 was the date of our third and final summer activity: preparing dinner for the families staying at the Ronald McDonald House at the Maria Fareri Children's Hospital in Valhalla. Coordinated by Stephanie Lemnios, an intrepid six-member crew peeled, chopped, sliced, and baked a colorful meal for an expected 25 diners. Good job, Stephanie!
As our new branch year swings into action, it's not too early to be thinking of a summer activity that you'd like to suggest for next summer.